Here is my long-overdue recap of Adam's Melbourne concert – i.e. the popping of my real-live-Adam cherry. (My Sydney recap will come later.) I've used my tweets as prompts. I know some of the tweets and photos have been posted before, and this may be way too long … please feel free to scroll right past!
So on the morning of the Melbourne concert I tweeted this:
Quote:
Dear followers, a warning: all my tweets for the next couple of days are likely to be about Adam Fucking Lambert. Just sayin'. :D
All I had on my mind that day was ADAM ADAM ADAM. I couldn't sleep, and I was so excited that I literally felt like I was going to jump out of my skin. I was all shivery and prickly with anticipation. I don't know whether that makes sense, but it's my best attempt at explaining how I was feeling.
Alas, I had a work deadline that absolutely HAD to be met, so here is my next tweet:
Quote:
Have to finish some work but CANNOT concentrate. FML.
I toiled away slowly, at the same time keeping half an eye on Twitter to read about any Adam/GlamTroupe sightings in my home city. At one stage I received a tweet from a fellow fan about the company I planned to keep, in response to which I tweeted:
Quote:
Apparently some Glamberts want to ~borrow my gay boyfriends at the @adamlambert concert tonight. Not sure for what purpose. ;)
The answers to that tweet were along the lines of "We want them for Adam bait!" Heh.
Eventually, at about 5pm or so, I was able to tweet the following:
Quote:
Whoooooooooo! Have finally finished my work. Now off to get glammed up. Also, liquored up. :DDD

My ~sources tell me Adam will hit the stage at 9pm. That's a little over 4 hours from now. I am JUMPING OUT OF MY SKIN with excitement.
It was a bright sunny evening in Melbourne, if a little cold. (Daylight saving had started a couple of weeks earlier.) I dressed in black pants and a black camisole top (knowing full well I was going to be hot and sweaty later) and my awesome vintage turquoise suede coat that I bought for $90 years ago at a second-hand shop, put on some black-colour liner and my gorgeous bracelet, and zhuzhed up the hair. I don't have a car, so I walked over to the nearby bus stop and waited for a few minutes for the next bus, which goes pretty much straight to St Kilda, where the Palais is. Dammit:
Quote:
On bus to St Kilda in Melbourne rush hour on city's busiest road. GTFO, commuters.
The road was clogged with traffic and I got a bit antsy given my overstimulated state – but it really didn't take that long to get to my destination. I had arranged to meet my gay boyfriends at the Dogs Bar, an iconic and very cool watering hole a few minutes away from the Palais.
Once there, again I said dammit:
Quote:
Have arrived at bar but can't get my drink on till my gay boyfriends arrive and pay me for their concert tix. :(
I had completely forgotten to go to the bank, and had no cash whatsoever on me. Luckily, my gay boyfriend Chris arrived about 15 minutes later and the party started.
Via Twitter, I had arranged to meet
Catzmadam
over the road from the bar in front of Luna Park (an old-fashioned and beloved amusement park), which is right next door to the Palais. (The Palais is on the right of the road in the second photo; Luna Park on the left.)
Catz knew what I looked like from my photo on ALF, but I had never seen a photo of her, so she told me she'd be wearing a "blue and white floaty butterfly thing". And sure enough, she was! She looked fabulous, with glittery eyes and appliqués and jewellery. We greeted each other like long-lost friends, with big hugs and much laughter, then headed back to the Dogs Bar. Some other friends from Twitter also made their way over, and we ended up with a table of about 15 or 20, all chatting away madly.
Quote:
Am now drinking with @catzmadam and @2pussycat and @arohaadam and @elf_wynd, plus two gay boyfriends
After a while the gay boyfriend whom I had asked to bring his drag makeup arrived, and he proceeded to make me up right there in the bar. Daniel tweeted this on my behalf:
Quote:
Getting glammed up for @adamlambert tonight. Deciding what look to go with. Someone suggested "whore" #IDontThinkSo
Heh. I ended up with smoky eyes, which you can sort of see in this pic.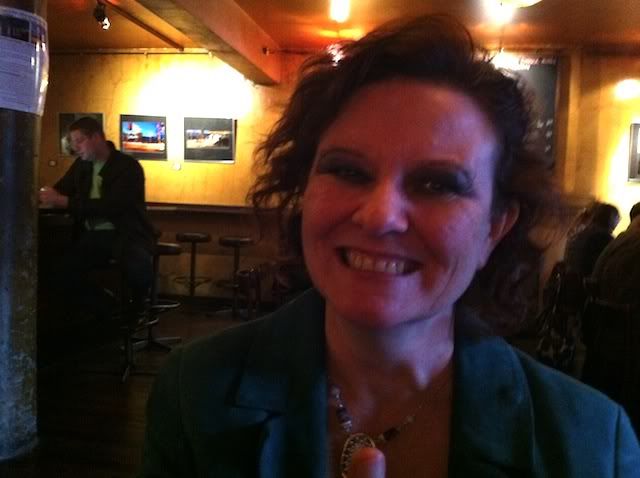 I think what you CAN see in that photo is how happy and excited I was!
We headed over to the theatre at about 7.30, and …
Quote:
Arrived at Palais. first thing my gay boyfriends do is log onto
Grindr
It was HILARIOUS to see them all do that simultaneously.
Quote:
Road outside theatre is covered in glitter
It literally was! Apparently someone had (deliberately or accidentally) dropped a tube of glitter out there and everyone had been spreading it around. It was rather lovely.
We headed upstairs to the bar (yes, we were getting fairly merry by this stage!) and pretty much stayed out there chatting and tweeting and checking out the crowd all during the support act.
Quote:
Heaps of lesbian fans here. Fierce!

Gay boys as far as the eye can see :D
Anyone who reported that the audience was mainly female clearly was inside the theatre at the time, because seriously? There were A LOT of boys there. For example (sorry if this is TMI):
Quote:
Went to toilet in the men's because the queue at the women's was insane - was full of gay boys who could care less
As many of you have reported from other concerts, the crowd was very diverse. Only a couple of little kids that I could see, but adults of every age, shape and size, including a ~65-year-old man with grey hair in a ponytail, dressed in jeans and a leather jacket - an old rocker, for sure.
I looked over the balcony and saw this:
Quote:
Massive crowd at merch counter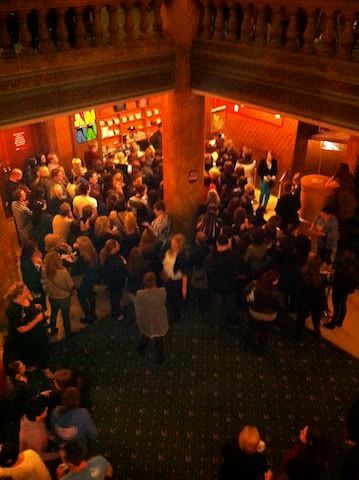 When the support act finished we went into the theatre, and our seats were fantastic – seven rows from the front on Tommy's side. Unfortunately, I realized at this point that I probably wouldn't be tweeting during the concert:
Quote:
Phone is running out of juice. I may have peaked too early
The "dance party" music was playing, but everyone was sitting – only me and a couple of other people were dancing (largely, I think, because the music wasn't very loud). One of my friends from JOY was right up the back of the stalls and tweeted this:
Quote:
Watching @katiemelb dance like crazy and Adam hasn't started yet!
Once Adam came on, however, everyone was out of their seats and stayed that way for the entire concert. As I said in my
brief recap
on the night of the concert, I spent the first 10 minutes or so with one hand clapped over my mouth in astonishment. I couldn't believe he was there on the stage right on front of me! It was WONDERFUL.
Quote:
Just a little sweet kiss in Fever. My gay boyfriends were momentarily disappointed but cheered up after a few glam-thrusts from Adam. :D
Me and my posse, plus all the people around us, were going OFF all through the show. Daniel screamed so loudly he sounded like a hoarse butch drag queen at the end. Another gay boyfriend, Nick, just kept on shaking his head and saying, "Fuck. What a showman." I heard many, many people exclaiming in wonder at Adam's magnificent voice. I did manage to get one tweet off, although I think it was a bit garbled. Here is the edited version:
Quote:
Absolutely killed in Sleepwalker. My voice has gone
My overall impression was that Adam put on one hell of a show. I really loved how much FUN it was, especially the last part (SFW, Strut, etc.).
Quote:
My favourite songs from the gig were Fever, DTRH, SW, Aftermath and, surprisingly, SFW. Strut was like X-rated Broadway. SO MUCH FUN.

Adam was in brilliant form vocally and in the way he moved. Not enough hip/groin action, but what there was was A++++
Of course, I wasn't to know what was to come the next night in Sydney. ;)
I was incredibly impressed by the band. That is one tight unit, yo. I was especially blown away by Monte, who reminded me just how much I love watching great guitar players do what they do best.
I wasn't surprised that we only got MW for an encore, as I knew from tweets that Adam had only arrived in Melbourne at about 2pm that afternoon, then had to get from the airport to the venue (about 90 minutes) and do M&Gs and soundcheck, plus he was doing media in Sydney early the next morning. None of my gay boyfriends was disappointed with the setlist or length of the concert at all. In fact, when I asked one of them what he thought about the concert, he said, "A little bit of wee came out!" Hee.
My immediate post-show tweet was sent from Nick's phone as mine had no battery left. You've probably all read it, but it was this:
Quote:
My Glam Nation cherry has exploded all over the Theatre. It's a hot sweet sticky mess and I am SPENT
Speaking of sweet and sticky, Nat from Theme Party (second from the left, back row) bought us all Golden Gaytime ice-creams, which we posed with in the foyer: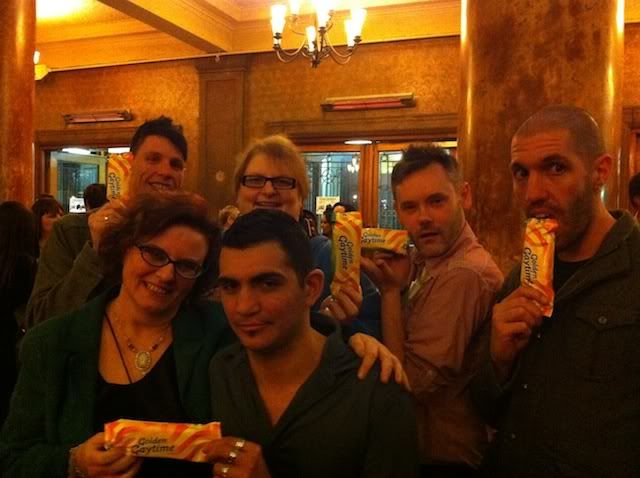 And here we are outside afterwards, all happy 'n shit.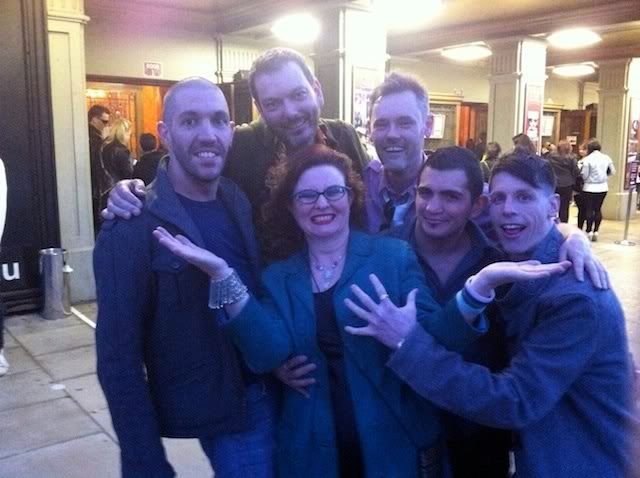 I thought Adam would probably go straight from the theatre to the airport, so it was a bit of a treat when he came out to sign near the stage door. I'd dragged my group down to have a look just in case, and we all enjoyed seeing him looking so gorgeous and being so gracious to the fans. One of my gay boyfriends even got an illegible "AL" scrawl on his ticket.
Quote:
Overheard while waiting for Adam in the aftermath - husband to wife and her friends wanting to push thru: "Pretend it's a sale at Kmart!"
I stayed up till about 4am tweeting and reporting to AWoP. My one negative criticism:
Quote:
I have only one negative thing to say about tonight: the merchandise was VERY average. Most of the tees looked like bad metal shirts (c)

and the hoodie was ugly cheap 80s style. My gay boyfriends shrieked and covered their eyes when they saw what was on offer. :)
Here's my final tweet of the night:
Quote:
Have to be up in about 3 hours to catch flight to Sydney and do it all again. Expect more flailing tomorrow, everyone! Goodnight. <3
Whew. That took longer than I expected. I might get my Sydney recap up by Christmas. ;)